Summary of talk given by Tim & Chris Cross at the Reading is FUNdamental National Development Day, London, 1 July 2002
New approaches to motivating young people to read:
some thoughts from the cool-reads team
Introduction
For many of our friends, it's ok to talk about what you saw on TV, or computer games, or films but you keep quiet about reading. It's definitely not cool to be seen as somebody who reads a lot. It's quite cool to have a website, though, especially one that people go to, so we don't get too much grief from our friends about being book-freaks.
It would be nice to say that we started cool-reads because we wanted to make it more ok to young people to talk about books they had read but it wouldn't really be true. The idea for the website came together one summer when we were a bit bored and wanted something to do. We have both always read a lot and could never seemed to be able to find enough good books to read. We also like doing stuff on the computer and so the idea of a review site came together.
It is difficult for us to say how successful our website has been but we are now getting more than 100,000 hits a month from about 6000 separate users (by November 2002 cool-reads was receiving 114, 000 hits a week). Each user logs on for an average of just under five minutes.
Cool-reads.co.uk
Reviews
The key part of cool-reads site consists of book reviews written by people between the ages of 10-15. We started writing the reviews ourselves and so far we have reviewed about 430 books. We thought it would be a good idea to invite other young people to write reviews as well and so far we have been sent more than 800 reviews.
One problem is that not all these reviews are usable. Sometimes they are just silly, or rude or both. Sometimes they don't make much sense either. We accept about half of those sent in and put them up on the website.
Table 1 - general breakdown of 1st category* choice
Category

rejected guest reviews

accepted guest reviews

cool-reads team
reviews

Total

Mystery & adventure

190

161

119

470

Suspense & horror

18

12

15

45

Action stories

9

6

10

25

Survival

38

17

38

93

Animal & nature

25

22

55

102

Things to do with real life

89

110

88

287

War

2

16

31

49

Romance & love stories

4

11

3

18

Characters & school stories

5

3

6

14

People/Places/In the past

9

33

32

74

Fun stuff

11

18

13

42

Biography

7

9

4

20

Short stories & snappy reads

3

1

7

11

Sports

5

0

2

7

Total

415

419

423

1257
*

A reviewer can choose up to 3 categories

People writing a review choose up to 3 categories, which will group their review with others with the same theme. Table 1 shows the breakdown of all reviews by the first kind of category that the reviewer chooses. It gives some idea of the kinds of books that interest people in our age group. Books that fall into a general Mystery and adventure category are most popular. 'Real life stories' come next.

Table 2

- detailed breakdown of 1st category choice
Category

Accepted guest reviews

Cool-reads
team
reviews

Total

Mystery & adventure - general

38

34

72

Magic/Witchcraft

36

25

61

Fantasy worlds

46

17

63

Time travel

7

1

8

Science fiction

12

2

14

Ghosts and supernatural

13

20

33

Space

0

3

3

Computers

3

2

5

Crime and detective stories

7

13

20

Spies & undercover stuff

0

2

2

Suspense & horror

12

15

27

Action stories

6

10

16

Survival -general

9

17

26

Kids only

4

10

14

Survival in the wild

4

11

15

Animal & nature - general

4

9

13

Animals tell the story

3

12

15

Lots of animal content

15

34

49

Real life - general

42

25

67

Friends/families

61

49

110

Bullying

5

8

13

Illness & disability

4

6

10

War

3

3

6

War in human world (not WW2)

5

3

8

Second World War

8

19

27

War - animal or fantasy world

0

6

6

Romance & love stories

11

3

14

Characters & school stories

3

6

9

People/Places/In the past

33

32

65

Fun stuff

18

13

31

Biography

9

4

13

Short stories & snappy reads

1

7

8

Sports

0

2

2

Total

422

423

845
On the website the categories are broken down into smaller groups and we show all of the categories in Table 2.
Reviewers
Most book reviews are sent to us by 11-14 year olds (Chart 1). The bottom of the columns show the reviews that we have accepted and the top shows the ones that were rejected so you can see that we accept a higher proportion reviews from older people. Chart 2 shows that 70 per cent of reviews have been sent to us by girls and also that we are more likely to accept reviews by girls (59 per cent) than by boys (31 per cent).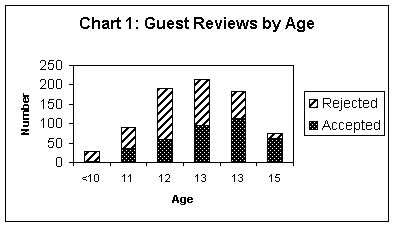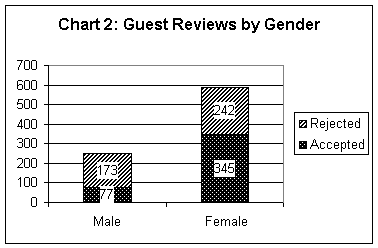 Why people think they read more than their friends:
My mum introduced me to books from a very early age (Female, 11)
I guess my parents started me on books earlier than most kids. Also there are loads of books at home (Female, 13)
I was an only child so for most of my young life I had nothing else to do but then I started to enjoy books so I kept on reading (Male, 13)
Because I had good books read to me when I was young and was encouraged to read a lot. (Female, 15)
I've enjoyed books from a very early age and I also love seeing things from other people's perspectives. I just find books very entertaining and enjoyable. (Female, 14)
Because I like to find out about people's lives (Female, 12)
Because I'm more keen, and I enjoy reading, whereas my friends think it's 'uncool'. I find it helps me in school and I learn a lot of interesting facts. (Female, 13)
Because I am better at reading and don't really have much friends around my house so I don't get out as much.
I am also more interested in books and enjoy them more as my family reads a lot. (Female, 12)
I live in the middle of a field and do not have a computer! (Female, 13)
My mum & brother reads loads so it is just part of the family (Male, 13)
Most of our reviews are sent to us from the U.K. but we have also been sent 127 reviews from Australia and New Zealand (Chart 3).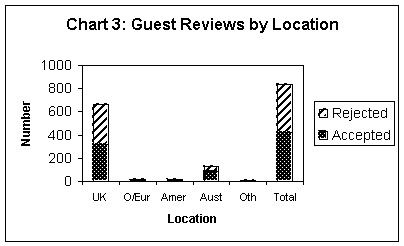 Cool-readers
We are not really experts on why some young people like to read more than others. We did think it might be interesting to find out a bit more about the people who use our web site so we decided to carry out a small survey during May this year. We put up a questionnaire on the site and asked for replies by the end of the month. We asked publishers for signed copies of books for a prize draw as an encouragement!
We received usable replies from 164 young people (92 girls and 72 boys). Not surprisingly they were rather like our reviewers – two-thirds were aged 11-13 and the vast majority came from the UK, maybe that's also because we had to say we could only send the prizes to UK addresses because of postage costs!
How much they read
We asked them how much they read when compared with their classmates and friends and more than a half (52 per cent) said that they read more. We also asked people to comment on why they thought they read more than their friends, and we have included some of their comments on page 3 of this text.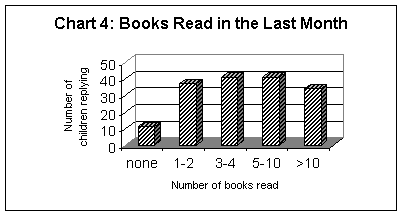 We do not watch much television so we wondered if watching television affected how much you read, so our questions was to do with how much television people watched and the answer can be seen from Chart 5. It looks as if a lot of people watch TV more than we do!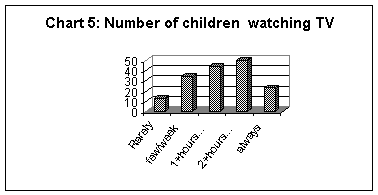 Some additional comments were added to the question on how much people read when compared with their friends and we noticed that quite a few who said they read more, also said that did not watch television very much. We have included some of these comments here.
I love reading and always find good books, I am a very fast reader and I don't watch tv and play on the computer much. (Female, 11)
I think I read more than them because I don't always just watch TV and I find that I enjoy reading more than some of my friends. (Female, 12)
I don't watch much TV (Female, 13)
People think reading books is boring and want to watch TV or films (Female, 13)
Because my parents read to me when I was little and I'm not glued to trash on the telly (well not as much) and I am not a narrow minded idiot like lots of people I come across day to day. (Female, 13)
Most of the people I know watch a lot more TV than I do, and so have less time for reading. I think it is all to do with taste, they like all the programs on TV, where as I think they're crap. (Female, 13)
They watch TV and I read instead. (Female, 13)
I really enjoy reading although some friends prefer playing sport or watching TV. (Female, 14)
We don't have a TV and I am not an average person anyway (Female, 14)
I think it is because I watch less TV and therefore read more (Male, 11)
Don't watch any TV at all (Male, 14)
How young people find out about books
We asked a question about how young people found out about books they might like to read. Chart 6 shows that the most important source of information was the local library or bookshop. People also liked to follow an author they had read before or read books that their friends were reading. Teachers and other grown-ups were not really in the running!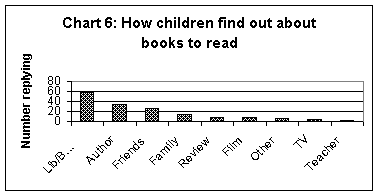 Friends seem to be quite important in finding out about books. Eighty-one per cent of girls and 70 per cent of boys told us that they sometimes or often talked to their friends about books that were good to read.
How people choose which books they want to read
We tried to find out what makes young people choose certain books once they're looking around a bookshop or a library. You can see the answers in Chart 7. It seems that the topic of the book itself ('It's about something I like') was the single most important factor but knowing other books by the same author was also very significant. Book awards and the fact that "everyone is talking about it" were much less important considerations.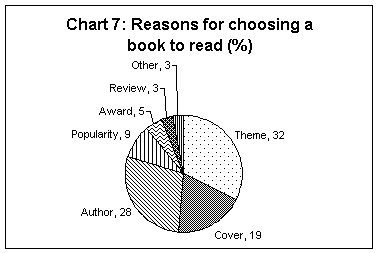 We also asked people what kinds of books they would like to read more of and not surprisingly, the answers were very similar to the kinds they were most keen on reviewing for cool-reads. Out of the forty-two per cent who wanted to read more mystery and adventure, 57% liked books with lots of magic and fantasy, the remaining 42% liked their mystery and adventure to be quite realistic.
We also asked people what really put them off reading a book. The results are shown in Chart 8. What is clear is that being told the book is a classic, or being pushed to read it, or being recommended it at school are ways of putting young people off reading a particular book. Forty per cent of answers were of this type with the remainder divided between the book being too childish, too long or difficult or being a book dressed up as fiction when it was actually just a load of facts in a story.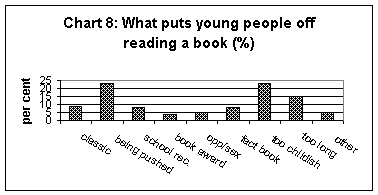 Conclusion
In conclusion, we think the web is probably quite a good way of encouraging young people to read - but throwing away televisions, giving more people access to bookshops and libraries where they can choose books for themselves, and allowing young people to choose books without being pressured by adults, might also work quite well.